Army Dad Wears Referee Disguise To Surprise Son At Football Game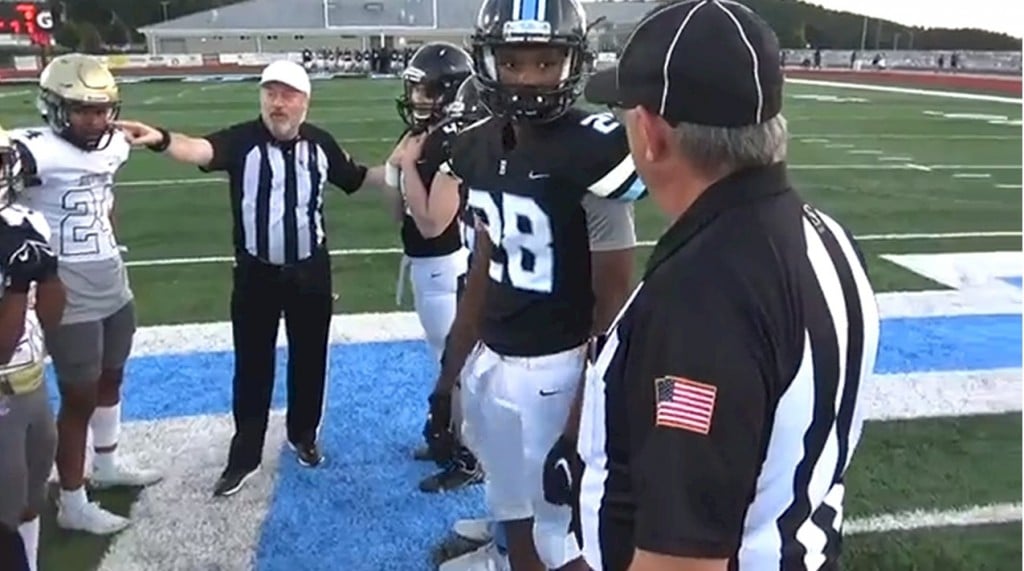 Ninth grader Fred Grooms has been enjoying a busy year, going to school and playing football.
His dad has been deployed in Kuwait with the Army for over a year, but that hasn't slowed Fred down one bit.
At the start of a recent football game, Fred went out to the middle of the field with the co-captains of his team for the ceremonial coin-flip.
Also at the middle of the field were the co-captains of the opposing team and the referees.
And — wouldn't you know it — one of those referees was actually Fred's dad, wearing a referee's uniform, there to surprise him.
It was a complete shock for Fred to see his father. It was also a cool moment for the fans at the stadium to see.
Fred and his dad hugged at midfield as the crowd applauded.
Luckily for both father and son, the visit home is scheduled to last 30 days, allowing them to spend some quality time together — and allow dad to watch a few more football games before heading back overseas again.
9th grade Husky Fred Grooms got a big suprise from Army Father Returning after being away a year. Thank you for your service Mr Grooms and we are glad you are home! @AHSAAUpdates @WBRCsideline @abc3340sports @RickKarle @cbs42 @Helena_AL_HAA @HelenaHSSports @HelenaHSSports pic.twitter.com/jUyyRsggPe

— HelenaHSFootball (@football_helena) October 18, 2021