Wynonna Judd Fights Back Tears As She Kicks Off The Judds' Tour Without Naomi
11 city tour kicked off last Friday night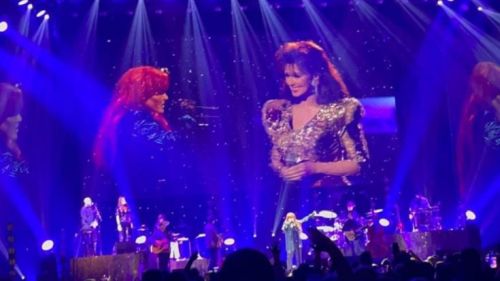 ClassicCountryMusic.com
Wynonna Judd took the stage alone on Friday night (September 30) for the launch of The Judds: The Final Tour.
The tour was originally planned to be a return to the road for Wynonna and Naomi Judd, the mother-daughter act known as one of the most successful duos in country music history. But, Wynonna took the stage alone in Grand Rapids, Michigan, for the tour's kickoff, five months after Naomi's death. And it was nothing short of emotional for the singer and her fans.
Clips shared to social media by those in attendance show Wynonna sounding better than ever as she sang some of The Judds' greatest hits, including "Love Can Build a Bridge," "Mama He's Crazy," and "River of Time."
Wynonna's husband, drummer Cactus Moser, joined her at the mic to sing "Young Love," the Judds' 1989 release that became their 13th No. 1.
The two-hour show was full of emotion, according to fans in attendance.
One video showed Wynonna fighting back tears as she sang the end of "Grandpa (Tell Me 'Bout the Good Old Days)." No doubt the song brought back memories for Judd who earned a Grammy award for the tune alongside her mom in 1987.
As Wynonna sang, the Judds' music video for the song played behind her. The singer kept the tears at bay until the song's end.
Singers Brandi Carlisle and Martina McBride joined Wynonna for the tour's opening weekend, with both sharing the stage with the singer for some of the Judds' songs. Ashley McBryde, Little Big Town, Kelsea Ballerini, Trisha Yearwood, and Faith Hill will all take turns joining Wynonna throughout the month-long, 11-city tour that became a tribute tour following Naomi Judd's death.
Full story here.