Tim McGraw and Faith Hill Homeless?
well....not really....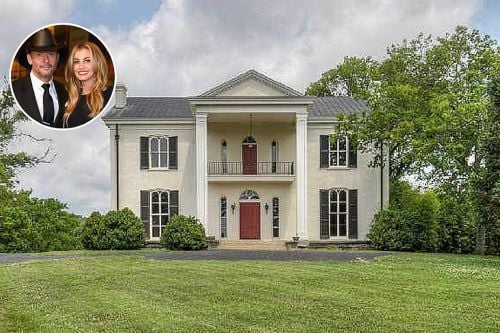 Chattanooga, TN:  According to Taste of Country,  Tim McGraw and Faith Hill's historic Southern manor home just outside of Nashville is reportedly being torn down by developers.
Beechwood Hall is a two-story, log-built manor home that was originally built in the 1860s. It's one of the oldest antebellum properties in Franklin, Tenn., which is an affluent rural community outside of Nashville that is home to a number of top country stars.
The property is an important part of Civil War history, as it's situated in the area where the Battle of Franklin took place. The entire area is rife with historic sites, but Beechwood Hall is one of the largest and most preserved structures that survived the war. It is entered into the National Register of Historic Places, and it has even further historical significance to country music.
Hank Williams SR. purchased the historic property in 1951, though he reportedly never lived there full time before his death just two years later. McGraw and Hill later purchased the main residence, several other structures and 750 acres, and they sold 131 acres in 2015. The superstar couple sold the remaining 620 acres in 2021 for $15 million in a deal that included Beechwood Hall, as well as a 12-stall stable, a barn and a storage building, two caretaker homes, a restored log cabin and two guest houses.
There is a petition seeks to halt the demolition process and force the new owners to either preserve Beechwood Hall properly, or sell the property to another entity who will. It also seeks to address the laws that allow such demolition projects to take place in the case of historical sites.
Read More: Tim McGraw + Faith Hill's Historic Southern Manor Being Torn Down | https://tasteofcountry.com/tim-mcgraw-faith-hill-historic-manor-beechwood-hall-torn-down-developers-petition-pictures/?utm_source=tsmclip&utm_medium=referral