Fireworks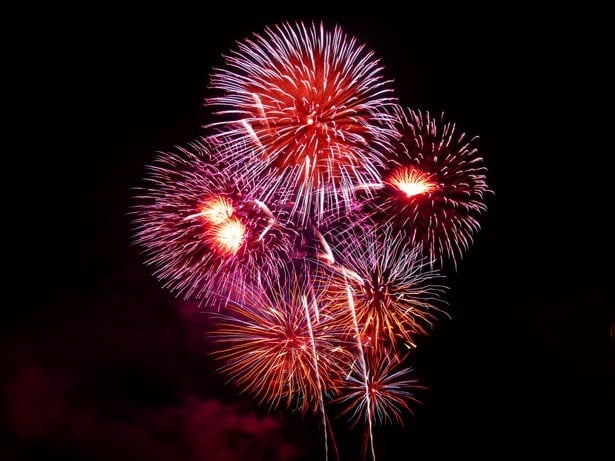 Thursday July 1st:
Collegedale: The Freedom Celebration is at The Commons on Thursday.. A free concert by the East Tennessee Symphony Orchestra begins at 8 p.m. Bring your blankets and lawn chairs. Food trucks will be on site. Fireworks at 9:45 p.m. in Collegedale.
Fort Payne, Ala.: Boys in the Band, an Alabama tribute band, will headline the Independence Day celebration on Thursday, July 1, at the Fort Payne Sports Complex, Starts at 5 p.m. CDT, with fireworks at dark.
Friday July 2nd:
Fort Oglethorpe: Patriotism at the Post starts at 7:30 p.m. Friday, July 2, at the Museum on Barnhardt Circle, inflatables and a Patriotic Kids costume contest. Fireworks at dark. Bring your own seating. Free admission; $5 parking is requested.
LaFayette, Ga.: The Freedom Festival starts at 6 p.m. Friday at the old high school football field, which is a new location this year. The evening includes musicians, vendors, corn hole, inflatables and field games for kids. Fireworks start at 10 p.m. Free admission.
Saturday July 3rd:
The Colonnade on Battlefield Parkway, Saturday from 4pm-10pm, with a car show,   inflatables, live music, then fireworks at 9:30pm at The Colonnade  Saturday night
Dunlap, Tenn.: The patriotic parade on Rankin Avenue through downtown Dunlap starts at 9AM. Saturday, July 3, and is immediately followed by the Fourth of July Music Festival at Harris Park on Church St. – Musicians will perform all day, with fireworks at dark. Free admission
Etowah, Tenn.: The Fourth of July festivities will take place Saturday, July 3, at The L&N Depot, with A beauty pageant, family games, and music during the day, Fireworks start at 9:45 p.m. Free admission.
Graysville, Tenn.: Freedom Fest is Saturday, July 3, at Kristopher's Kingdom, on Blacktrack Road. This scaled-back celebration will open at 5 p.m. with Graysville Fire Department equipment on display, Fireworks start at 10 p.m. Proceeds from concession sales and an auction benefit the fire department. Free admission but donations requested.
Henagar, Ala.: starts at 9AM Saturday, July 3, at Henagar City Park on Highway 75. with live music, arts and crafts, games and a fireworks display at 9 p.m. Central
Jasper, Tenn.: at City Park, on Phillips Ave., includes the Red, White & Q barbecue competition, live music, a carnival, face painting, inflatables, food, arts and crafts vendors, and fireworks at 9 p.m. CDT. Free admission.
Lake Winnie will have fireworks at 10 p.m. Saturday, July 3.
Monteagle, Tenn.: "Honoring the Red, White & Blue" festivities are scheduled Saturday, July 3, starting with a parade at 10 a.m. at the VFW, followed by a cruise-in and live music. Fireworks start at 9 p.m. (all times Central).
Pikeville, Tenn.: The Star-Spangled Celebration, featuring live music and food vendors is Saturday, at the Pikeville Farmers Market on Main Street. Free admission. Fireworks at dark.
Soddy-Daisy: This festival, which opens with a Firecracker Rod Run at 9 a.m. Saturday, July 3, will have crafts, kids games and food vendors set up all day at Soddy-Daisy Kids Club, 150 Depot St., near Soddy Lake. Live music from 12noon til 9pm, then fireworks at dark. That's this Saturday July 3rd.
Spring City, Tenn.: It's called "Shake The Lake" and it's this Saturday the 3rd at Veterans Park in Spring City. There's a pageant for kids, lots of vendors all day, music at 5pm and fireworks at dark.
Trenton, Saturday July 3rd: Don't miss the "1945 Dade County Fair"; at Jenkins Park from 12noon until 10pm … Music from T. Graham Brown and many others; Moon Pie eating contest, softball, vendors, and a car show; fireworks at 9:30 in Trenton, Saturday.
Sunday July 4th:
Athens Tennessee, At Athens Regional Park on Decatur Pike. Because of the large size of the fireworks, the Park will be closed during the display, so park nearby for a spectacular view.   Fireworks at 9:30pm.
Creative Discovery Museum – from Noon until 4pm on Sunday;, kids will enjoy Red White & Blue Day. There will be cake, and lots of patriotic arts & crafts.  Active-duty military members and veterans will receive free admission for up to four guests with presentation of a military ID. To reserve free tickets, call 423-648-6052. This Sunday
Cleveland, Tenn.: at Bradley Square Mall, fireworks at 9:15 p.m. Sunday, July 4. Organizers say the best place for viewing will be east of the mall.
Dalton, Ga.: The Dalton Parks and Recreation Department plans a full day of activities on Sunday, July 4, starting at noon when the pool and splash pad open, and culminating in fireworks at 9:45 p.m. at Heritage Point Park
Ducktown: Fireworks at 9:30 park along Hwy 68 for viewing
Hixson: No events this year at Camp Columbus in Hixson.
Lakesite: annual Fourth of July barbecue at 5:30 p.m. Sunday, July 4, at City Park on Blue Ridge Drive. The city will provide barbecue and drinks. Residents supply the sides. The pool and playground will be open, but NO fireworks this year.
Miller Park and Miller Plaza, downtown Chattanooga, on Sunday from 5pm until 10pm, courtesy of "Chattanooga Presents".  Live music, art vendors, vintage cars, food trucks and a laser show that begins at 9:50pm. Free admission.
Ringgold, Ga.: The Barn on Beaumont will host a Bash, with music from 6-10 p.m. Sunday, July 4. Bring your own seating. Concessions will be available. Fireworks at dark.
Sewanee, Tenn.: Sunday, July 4, an arts and crafts fair starts at 9 a.m., and a parade on University Avenue starts at 2 p.m. (all times Central). In between are a dog show, a cake decorating contest and several music performances. Airplane rides and an air show will follow the parade, weather permitting. Fireworks start at dark; a $1 donation is requested.
Monday July 5th:
Signal Mountain: events led by the Signal Mountain Lions Club will take place Monday, July 5, at The Park on James Boulevard.. the Lions Club will provide barbecue meals for sit-down dining between 11 a.m. and 2 p.m. (or until they sell out). Bulk sales of pork, beans and slaw also will be available. Other concessions include hamburgers, hot dogs and funnel cakes;  desserts in a bake sale. A neighborhood patriotic parade will start the day at 9 a.m. There will be NO fireworks this year.