Every Fast Food Chicken Nugget, Ranked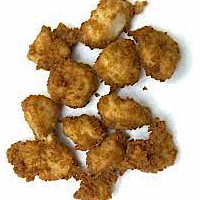 If you've eaten the chicken nuggets at different fast food establishments, you know that some of them are DELICIOUS, and others taste worse than the frozen ones you can make at home.
The people at Uproxx.com conducted a chicken nugget taste test . . . and here's how they ranked the offerings at every fast food joint.
1. Chick-fil-A, Nuggets
2. Wendy's, Spicy Nuggets
3. McDonald's, Chicken McNuggets
4. Shake Shack, Chick 'n Bites
5. KFC, Popcorn Nuggets
6. Popeyes, Chicken Nuggets
7. Jack in the Box, Chicken Nuggets
8. Wendy's, Chicken Nuggets (non-spicy)
9. Burger King, Chicken Fries
10. Rally's, Chicken Bites
11. Carl's Jr, Chicken Stars
12. Sonic, Jumbo Popcorn Chicken
13. Chick-fil-A, Grilled Nuggets
14. Arby's, Premium Nuggets
15. Burger King, Chicken Nuggets. They suggest the chicken fries instead
16. Dairy Queen, Rotisserie-style Chicken Bites. They say, "Run! You won't find a worse nugget on this planet. These are aggressively bad.