Darius Rucker Pretended to Be a Wax Figure at Madame Tussauds Nashville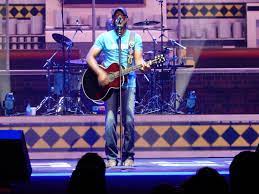 Here's some Halloween fun for you. Y'know who dressed up as DARIUS RUCKER and fooled a bunch of people? Darius Rucker. He pretended to be a wax figure of himself at Madame Tussauds in Nashville.
He posted the video yesterday. You see him standing next to wax figures of country stars like Trisha Yearwood, Eric Church, and Reba McEntire, and he looks about the same as they do . . . until he starts moving.
Here's what he wrote in the caption:  "Y'all know I love a good prank.  To get into the Halloween spirit, I stopped by Madame Tussauds Nashville to say 'boo' to a few new friends."
In other Darius Rucker news.  The "Good Strong Woman" video is out.  That's his duet with blues singer KEB' MO'.  It'll be on Keb' Mo's next album, "Good to Be", which drops January 21st.