Beyond Deep-Fried on a Stick At The Fair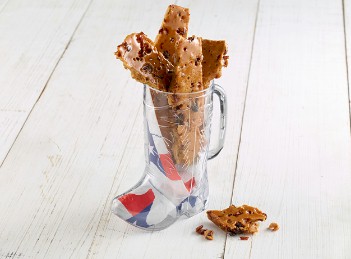 The State Fair of Texas has released their list of top noshes at this year's event, and these items are far from corn dogs and funnel cakes. Some favorite include:
Deep Fried Seafood Gumbo Balls (Winner Best Taste — savory and Most Creative): Starting with a generations-old family recipe, this tasty treat combines all of the flavors of gumbo, including shrimp, chicken, crab and sausage, rolls them in bread and cracker crumbs and into the fryer it goes. Served with chicken-fried okra spears, gumbo sauce and a tiny bottle of heat.
The Armadillo (Winner Best Taste — sweet): a cookie butter ice cream sandwich in the shape of an armadillo, dusted with powdered sugar. Does it get any more Texas?
Brisket Brittle (Finalist — sweet): a peanut brittle type confection, only instead of peanuts, Texas brisket nuggets are buried in the candy, which also finishes with a dash of heat.
The State Fair of Texas continues through October 17th.