Toby Keith Sends Message To Fans Amid Stomach Cancer Battle
Had revealed diagnosic 2 months ago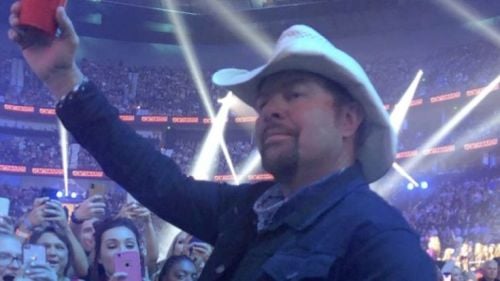 ClassicCountryMusic.com
Country music star Toby Keith is thanking fans for their love and support as he fights cancer. In a post made to his social media accounts, Keith shared screenshots of well wishes he has received from fellow country artists such as Jason Aldean and Jake Owen, other celebrities including Lance Armstrong, Troy Aikman, Dwayne "The Rock" Johnson and numerous posts from his massive fan base.
The montage included a note from the 61-year-old that simply read, "Thank you for all your love and support. -T." Toby's debut single from 1993, "Should've Been a Cowboy," played in the background.
Toby Keith revealed his stomach cancer diagnosis two months ago with a statement that read, "Last fall I was diagnosed with stomach cancer. I've spent the last 6 months receiving chemo, radiation and surgery. So far, so good. I need time to breathe, recover and relax. I am looking forward to spending this time with my family. But I will see the fans sooner than later. I can't wait. -T"
The singer has remained quiet about his recovery, but canceled all of his remaining 2022 tour dates in order to focus on his health.
Full story: https://classiccountrymusic.com/toby-keith-sends-message-to-fans-amid-stomach-cancer-battle/