Toby Keith Plays First Performance Since His Cancer Diagnosis
Jumped onstage at Lexington, KY restaurant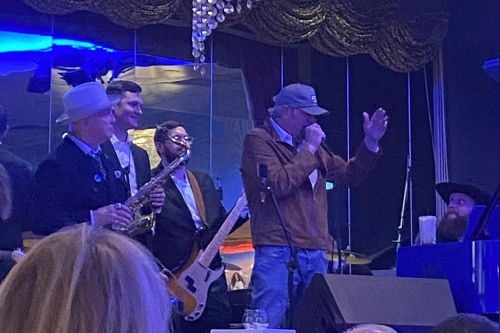 ClassicCountryMusic.com
Toby Keith made a surprise appearance at Jeff Ruby's Steakhouse in Lexington, Kentucky, on Friday (November 4), and reportedly sang to patrons for nearly an hour.
The performance marks the first time Keith has done so publicly since he was diagnosed with stomach cancer in the fall of 2021. In June, Toby shared his diagnosis with fans and said that he had spent the previous six months undergoing chemotherapy, radiation and surgery. In an Instagram post he said, "So far, so good. I need time to breathe, recover and relax," Keith wrote. "I am looking forward to spending this time with my family. But I will see the fans sooner than later"
Shortly after posting the news to social media, all of Toby's scheduled concerts were canceled. In mid-September Toby canceled a scheduled appearance at the Sabes Wings "Strike Out" benefit weekend in Paso Robles, New Mexico. SabesWings spokesperson Matt Heien, reported at the time, "He is still going through recovery and it is a tough week."
Toby Keith's appearance at Jeff Ruby's on Friday was a welcome surprise to patrons who were treated to a mini concert from the country star.  Keith was in Lexington for the 2022 Breeder's Cup race and stopped by the steakhouse where he shared the stage with Ruby.
Read the full story and see video here: https://classiccountrymusic.com/toby-keith-sings-during-surprise-appearance-one-year-after-cancer-diagnosis/