The George Jones Museum To Be Converted Into Sports Bar
Museum closed in December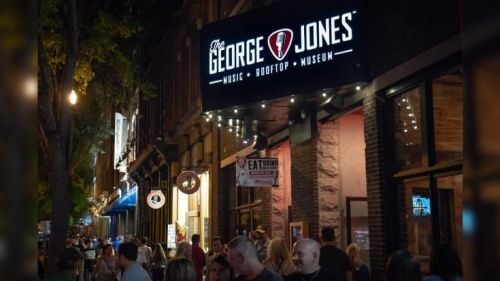 ClassicCountryMusic.com
The former George Jones Museum, located in downtown Nashville on 128 Second Ave. N., is set to be converted into a brand new DraftKings Sports & Social bar and restaurant.
The museum, which was dedicated to country music legend George Jones, closed its doors in December of 2021 after a decline in attendance due to the pandemic and the Christmas Day bombing. The building, which was once a symbol of Nashville's rich music history, will now be transformed into a space for sports fans to gather and watch games.
The building permit said, "This project is an interior renovation/conversion of the George Jones Museum, restaurant, bar and event center that was permitted and constructed in 2015. The tenant fit-out will maintain the existing restaurant (level 1), event center (level 3), and rooftop bar (level 4) and convert the museum (level 2) into a bar/restaurant."
The George Jones Museum opened back in April 2015 and was a major tourist attraction housing memorabilia, including gold records, awards, stage costumes, and other personal items belonging to the country music legend.
Full story: https://classiccountrymusic.com/the-george-jones-museum-to-be-converted-into-sports-bar/