Reba McEntire Says They've "Been Trying Really Hard" To Reboot "Reba" TV Show
Whole cast would love to do it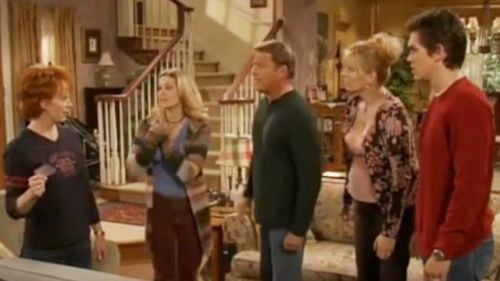 ClassicCountryMusic.com
Reba McEntire's Reba sitcom finished its six-season run in 2007. That was 15 years ago…and fans of the show have been asking for a reboot ever since.
The cast has made it clear they'd also love to reboot the sitcom. McEntire has always said "yes" anytime she's been asked if she'd be interested in bringing the series back. In 2020, she told TODAY.
"Melissa Peterman [who played Barbra Jean] started it out and we're all talking, hoping to get back together. We miss each other. It was a fun group to get to play with, work with, so we'd love to do it. Even if it's two-hour movie or a… I don't know, whatever. We'd love to get back together. They're wonderful people."
More recently, JoAnna Garcia Swisher (who played Reba's daughter Cheyenne), spoke about how she too would "love to do" a reboot of the show.
On July 15, McEntire spoke more about her hopes for a Reba reboot during an interview on The Bobby Bones Show. She said they've put in a lot of work to try and make the reboot a reality:
"We've really been trying hard to do a reboot of the Reba show," she said. "I really want to work with the people that I got to work with during that six and a half years."
McEntire said the whole cast had a great time working on the series. "We wanted to get back together like a reunion and have fun, so hopefully that will happen one day."
Full story: https://classiccountrymusic.com/reba-mcentire-says-theyve-been-trying-really-hard-to-reboot-reba-tv-show/