Man Wins Lottery Using Numbers From Broken Odometer
And it wasn't his first lottery win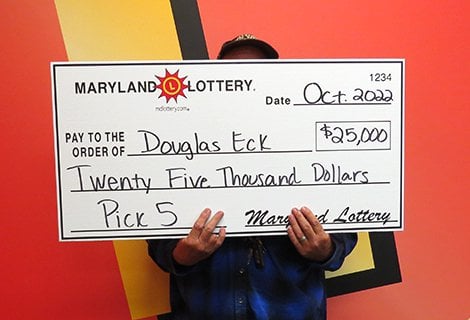 Maryland Lottery
If you're picking numbers to play in the lottery, there are many inspirations to draw from . . . special dates, lucky numbers, fortune cookies, sports scores…but this is new: A 60-year-old man in Maryland won a 50-cent Pick 5 drawing, by using the numbers from his truck's broken odometer. And it wasn't the first time he'd won a jackpot.
How about three times? Douglas Eck of Harford County, Maryland just won $25,000 playing Pick 5, which follows a 100,000 scratch-off win in 2008 and a $50,000 top-prize Bonus Match 5 win in 1995.
"This is my bronze medal, but I am still happy," he said, joking about comparing the size of his $25,000 win to his previous scores.
The 60-year-old plays the same number every day, which is based on an odometer. He bought an old truck with a broken odometer that is stuck on 82,466 miles. A retiree, Douglas said his prize will go toward bills.