Lorrie Morgan, Keith Whitley's Widow, Delivers Emotional Country Hall of Fame Speech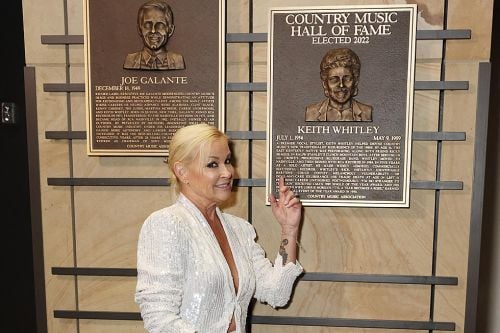 TasteOfCountry.com
Keith Whitley's widow, singer Lorrie Morgan, said she was struggling for the right words to include during her acceptance of his Country Music Hall of Fame medallion. She knew one thing, however.
"He would feel so undeserving," Morgan shares, reinforcing a notion suggested earlier in the evening, that Whitley's self-doubt was part of what led him to drink. Keith Whitley died at age 33 in 1989. His membership into the Country Music Hall of Fame is a reminder of his long influence during such a short career.
"That was the wonderful thing about Keith," Morgan continues. "He was so one of us. He loved all these Hall of Fame members. He was such fans of everybody. The musicians — he loved the musicians, the songwriters."
With her daughter from a previous marriage and her son with Whitley seated just in front of her, Morgan couldn't keep the tears from flowing as she started to reflect on her late-husband's fans.
"My whole family, we've all missed him together. All the fans who loved Keith and visited his gravesite all the time," Morgan says, sniffling and dabbing her face with a tissue. "I'm sorry. I wasn't going to do this. But I brought this just in case."
"People loved him, and it's because they wanted his music played that he's remembered."
Full story: https://tasteofcountry.com/lorrie-morgan-keith-whitley-wife-country-music-hall-of-fame-speech/