Kane Brown Surprises Fans With Randy Travis To Sing "Three Wooden Crosses"
Sparks sing along in Oklahoma with a chilling tribute to Randy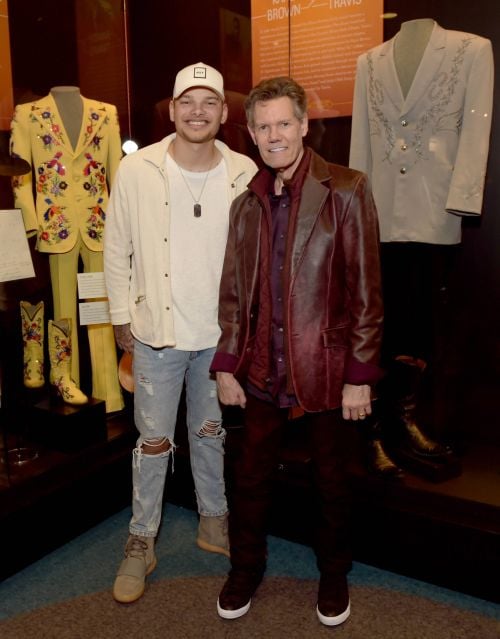 CMT.com
Over the weekend, Kane Brown shared a "Grand" moment with country legend Randy Travis. The platinum-selling performer surprised ticket-holders at his Oklahoma show on Saturday (Aug. 20) when he welcomed the "Diggin' Up Bones" singer to the spotlight during his high-energy set.
The Country Music Hall of Famer sat comfortably in his red wheelchair, as he admired the Brown from afar. Brown sang Travis' 2002 country-gospel classic "Three Wooden Crosses."
The empowering melody, which shares the power of religion and redemption, was penned by Kim Williams and Doug Johnson. The soulful single marked Travis' 16th No.1 and lives on his album, "Rise and Shine." Brown effortlessly tackles "Three Wooden Crosses" by placing a twist on the catchy chorus with his signature sound, which received a nod of approval from Travis himself.
Brown began the performance standing on the catwalk, until he requested a chair closer to Travis.
"Hey, can I get a chair?" shouted Brown from center stage.
Until the production team granted his wish, he kneeled next to the icon to serenade him with the timeless tune.
"That farmer left a harvest, a home and eighty acres | The faith an' love for growin' things in his young son's heart | An' that teacher left her wisdom in the minds of lots of children | Did her best to give 'em all a better start | An' that preacher whispered: 'Can't you see the Promised Land?' | As he laid his blood-stained bible in that hooker's hand," Brown sings moving closer to the hitmaker.
As Brown continued to deliver the lyrics, the audience started to sing along. The weighted words echoing throughout Choctaw Grand Theater, and brought a beaming smile to Travis' face.
Brown and Travis have a tight-knit relationship, as the country sensation joined the young star on his 2021 Blessed And Free Tour in Dallas, Texas. The memorable performance at the American Airlines Center occurred only days after Travis was presented The Artist of a Lifetime Award at the CMT Artists of the Year ceremony. Before Travis was honored with the prestigious accolade, Brown shared his appreciation by singing "Three Wooden Crosses."
Read more and see the video: https://www.cmt.com/news/pe1yry/watch-kane-brown-surprises-fans-with-randy-travis-to-sing-three-wooden-crosses