"Jeopardy!" Contestants Fail To Answer Question About Alan Jackson
You have to be pretty sheltered to not know Alan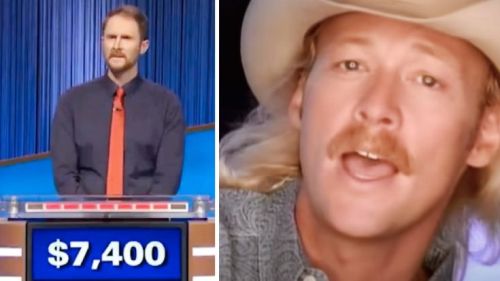 ClassicCountryMusic.com
We love it whenever there's a question on Jeopardy! about a country singer or song. One such question was asked on the Friday, July 8th episode of the popular game show.
The category was called "The Jackson 5." Each answer was a celebrity with the last name "Jackson." The answers for the $400 and $800 questions were Janet Jackson and Peter Jackson.
Then came the $1,200 question. It was, "In 2004, a stretch of highway in Georgia was named in honor of this great." They also showed a photo on the screen.
Any seasoned country music fan would have been able to identify the person as country music legend Alan Jackson.
A contestant named Brian was the first (and only) contestant to buzz in. Unfortunately, he failed to answer the question correctly.
Instead of naming Alan, he identified the singer as "Keith Jackson." Of course, that wasn't correct. But Keith Jackson was a real person…he was a sports commentator who died in 2018.
The other two contestants were confused, and didn't even try to guess. So no one knew who Alan was!
Full story: https://classiccountrymusic.com/jeopardy-contestants-fail-to-answer-question-about-alan-jackson/