Grand Ole Opry Inducts Another Legend
Larry Gatlin inducts Charlie McCoy as newest member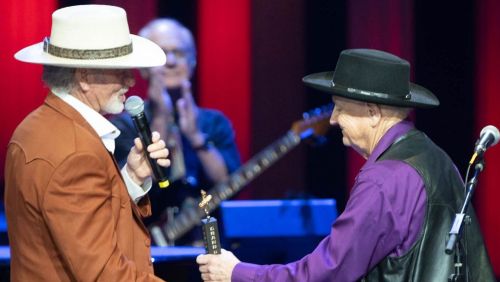 CMT.com
The Grand Ole Opry has a new member as of Wednesday night, and it's 81-year-old Country Music Hall of Fame member Charlie McCoy.
Opry member and "All The Gold In California" singer Larry Gatlin inducted McCoy, who has played on several of Gatlin's albums.
"The musicians on this stage are some of the best to have ever made their way to Nashville," Gatlin said. "You have their love and their utmost respect."
The Opry Band and singers surprised McCoy with a medley of some of the country classics on which he played, including memorable melodies by Lynn Anderson, Bobby Bare, Waylon Jennings, George Jones, Barbara Mandrell, and Tanya Tucker.
Of "I Wanna Go Home" from Bare's "Detroit City," Gatlin told McCoy, "We are welcoming you into our home. I am humbled and honored to welcome into our family a friend of 50 years who I think is the greatest musician in the world and the Dean of the Nashville Cats, Charlie McCoy."
McCoy ended his set with his signature "Orange Blossom Special" and said: "I've been so blessed in my career, and this is icing on the cake. And by the way, I ain't through playin' yet!"
Full story here: http://www.cmt.com/news/1848016/larry-gatlin-inducts-charlie-mccoy-as-next-grand-ole-opry-member/