Susie Q Luther
Susie Q Luther in the Morning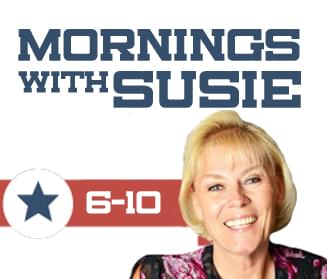 I don't think you'll ever meet another person in your life who appreciates music and its heritage like I do. My whole life has revolved around music in one form or another, from learning to play the accordion at age 7, the clarinet, saxophone, guitar and more in high school, to playing the Classic Country on Q97.3/99.3 today!!  What a great job, playing the music I love, and getting paid to do it. One of the greatest moments of my life was the night that Scott Miller & I were given the opportunity to announce on the Stage of the Grand Ole Opry during one of its Ryman Auditorium performances! YES LIFE IS GOOD!
I also love most all outdoor activities-especially camping and hiking, riding Harley's (on the back), going to concerts, collecting memorabilia, and practicing Obedience and Agility with my 3 dogs. Now I have a new obsession.  MY JEEP, The Boobicon! To call this a hobby is an understatement. For me it's become an obsession! And let me make it clear that I do not drive a Mall rated jeep.  She (the Boobicon) is off road somewhere here in the tri state area almost every single weekend. The most powerful feeling in the world is to climb a rock face up the side of the mountain, that most people wouldn't even hike. The world is my trail!  If you see my pink grill and the Boobicon on the hood in the woods, make sure you say something. I've usually always got some Q gear in the Jeep and I love sharing it with other off road enthusiasts.
My favorite artists are Alabama (the GREATEST Country Band of the Face of the Earth), Danny Shirley & Confederate Railroad, Johnny Cash, Tammy Wynette, Merle Haggard, Roy Orbison, Dolly Parton, George Jones, and Waylon Jennings. Just to name a few….I could list dozens more. Thank you so much for loving this station as much as we do! YOU ARE WHY WE ARE HERE!