Alabama Gives $25,000 To Kentucky Flood Relief
Eastern Kentucky areas devasted in July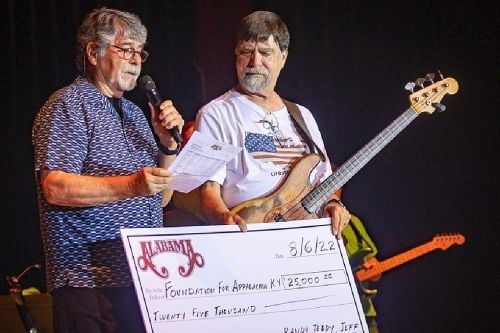 TasteOfCountry.com
Alabama made a sizable donation to the relief efforts in eastern Kentucky after recent flooding wreaked havoc on several communities in July.
Founding members Randy Owen and Teddy Gentry presented the Foundation for Appalachian Kentucky with a check for $25,000 ahead of their performance at the Barnyard Venue in Sharpsburg, Kentucky on August 6.
The band shared the news about their contribution on social media, alongside a photo from the event that shows Owen and Gentry holding a very large check, while the former reads from a piece of paper. The two also shared their sentiments for those affected by the damage.
"With all the devastation caused by the floods in eastern Kentucky, this is a very emotional time," Owen says. "Alabama wanted to offer help in a small way."
"We hurt for the loss of life and destruction caused by the floods in Kentucky. Hopefully these funds can help the families, farmers and businesses that were affected. They are in our prayers," he adds.
Full story: https://tasteofcountry.com/alabama-flood-relief-efforts-in-kentucky/